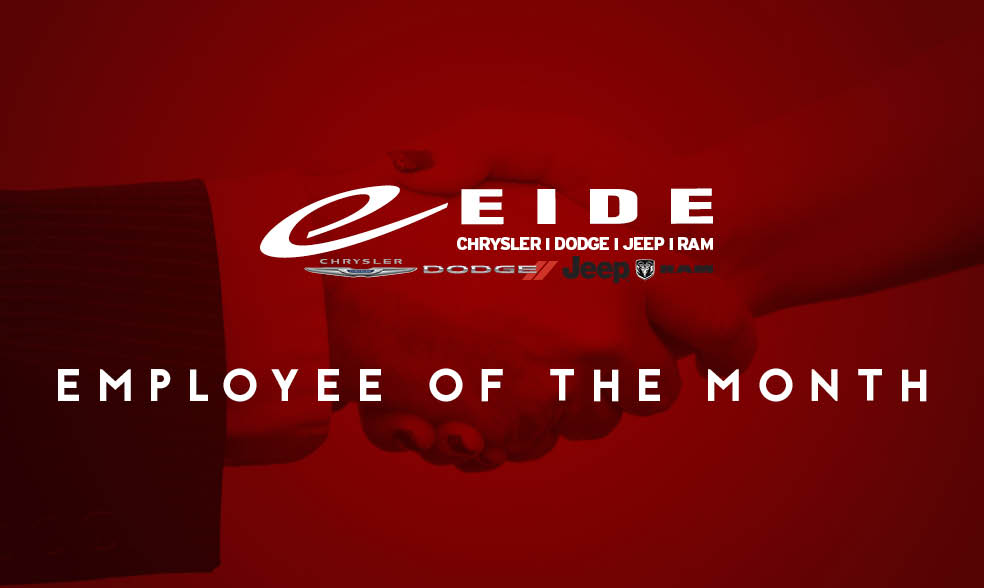 We're proud of the customer service we offer at Eide Chrysler, and we couldn't provide that excellent service without the team of exceptional employees who work here.
Our Oil Change Advisor Ryan Wynne is a new face at Eide Chrysler, but he's already been recognized for his hard work and dedicated customer service. If you have service done on your Dodge, Chrysler, Jeep or Ram through the Express Lane, you'll want to watch for Ryan.
Jesse Peterson, Eide Chrysler's President and General Manager, said "I get texts, emails and phone calls about Ryan from our customers regularly. The feedback from our customers on the surveys we do is also overwhelmingly positive."
Peterson said Wynne does a great job working with our customers on the phone and in-person.
"Ryan makes an excellent addition to our team here," said General Sales Manager Jesse Schuchard. "Taking care of our customers just comes naturally for him."
---
Read on to learn more about our Employee of the Month, and subscribe to our blog to see future Employees of the Month.

Ryan Wynne
Oil Change Advisor
Eide Chrysler's Employee of the Month for April 2016
---
How long have you been on the Eide Chrysler team?
Wynne: I've been here since the beginning of February. Before that, I was working in a parts department at a different dealership in Williston.
What are your main responsibilities at Eide Chrysler?
Wynne: I work in the Express Lane here at Eide Chrysler, where our main focus is oil changes, tire changes -- quick services. We're seeing a lot of customers come in ramping up for summer. Getting ready for road trips and camping. Every day is a little bit different at the Express Lane. Different problems become different solutions.
What's the best part of your job?
Wynne: The people. I like the support and teamwork.
What is one thing that sets Eide Chrysler apart from other Bismarck dealers?
Wynne: Our crew is knowledgeable, which keeps the customer coming back. We're not just a one-off pick. We're turning in the right direction -- not just focused on numbers and budgets, but customer service.
What do you do with your free time?
Wynne: I live in Bismarck now, but I'm originally from the Twin Cities. Now that summer is about to hit, I'm going to hit the golf courses. We'll get a good 50 rounds in this summer.
Who would you like to thank for this award?
Wynne: I have no idea who nominated me. It was kind of a surprise, but I want to thank our customers for making it possible.